Abraham Murphy Forbes (June 1, 1846 - June 1, 1935) served as a private in Company B, 13th Tennessee Volunteer Cavalry.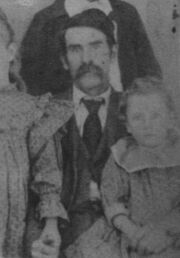 Personal life
Abraham Forbes was born June 1, 1846 in Carter County, Tennessee to Simon and Rachel (Richardson) Forbes. He married Susan Insco (1850-1931) with whom he had at least seven children.
Civil War service
Forbes enlisted as a private in Company B on January 1, 1865 in Knoxville, Tennessee for a period of three years and mustered in March 20, 1865 at Knoxville.
He is described as 18 years old, 5' tall, florid complexion, black eyes, dark hair, and by occupation a farmer.
One company muster record for May/June 1865 shows him present for duty; the other muster roll records do not appear to have survived.[1]
Forbes mustered out on June 1, 1865 at Lenoir Station, Tennessee due to a reexamination by the regimental assistant surgeon who deemed him unfit for the service for an unknown reason.[2] According to an affidavit filed by Colonel Miller in 1866 [see below], it can be assumed that Forbes was present for duty every month until his early discharge.
When the regiment mustered out September 5, 1865 at Knoxville it appears that he had never been paid for his service as only his June 1 discharge is noted. On September 1, 1866, former Colonel John Miller swore before the Carter County clerk in a written letter to the War Department that "Abraham Forbes late a Private in Co. "B" 13th Tennessee Cav. did honestly, and faithfully perform all duty required of him as [a] Private soldier by his commanding officers from the 1st day of January 1865 to the 1st day of June 1865 the respective dates of enlistment and discharge. And it is but justice, that he should be paid for the term of his said service."[3]
Post-war life
Forbes served as postmaster of Linville, North Carolina from September 5, 1906 to June 20, 1907.
He applied for an invalid's pension on July 14, 1881.
Forbes died June 1, 1935 in Linville, North Carolina and is buried at Montezuma Cemetery in Montezuma, North Carolina.
Notes
↑

Scott & Angel mistakenly show him as transferred, but to which company is not stated. No record of a transfer is found anywhere else in the company or regimental records.

↑

A Record and Pension Office of the War Department record dated August 11, 1900 states: "[T]he above named soldier was discharged [from] the service July 10, 1865, he having been rejected upon reexamination by the asst. surg. of this Regt., cause not stated. There is no surgeon's certificate of disability for discharge in his case on file.

↑

The records do not state if Forbes received his owed pay.
External links