Andrew Eastridge (April 16, 1844 - December 21, 1904) served as a corporal in Company E, 13th Tennessee Volunteer Cavalry.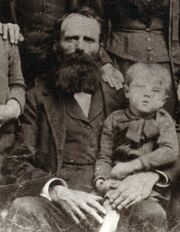 Personal life
Andrew Eastridge was born April 16, 1844 in Ashe County, North Carolina to Pleasant and Phoebe (Graybeal) Eastridge. He married Martisha Jane Osborne (1849-1929) with whom he had ten children.[1]
Civil War service
Eastridge enlisted as a private in Company E on September 24, 1863 in Greeneville, Tennessee for a period of three years and mustered in November 8, 1863 at Strawberry Plains, Tennessee. He was appointed corporal October 1, 1864.
He is described as 18 years old, 5' 5 1/2" tall, fair complexion, blue eyes, light hair, and by occupation a farmer.
Eastridge is listed as present for duty for which muster roll records survive, except for an unrecorded period of time in January and/or February 1864 when he was left sick in Hospital No. 8 at Nashville, Tennessee.[2]
Eastridge mustered out with the regiment on September 5, 1865 at Knoxville. He had last been paid to August 31, 1864, owed $10.57 to the government for clothing, had been paid a $25 bounty, and was owed a $75 bounty.
Post-war life
Eastridge applied for an invalid's pension on June 26, 1880. He died December 21, 1904 in Ashe County and is buried at Mount View Independent Methodist Church Cemetery in Ashe County. His wife applied for a widow's pension on May 1, 1905.
Notes
↑

1900 U.S. Census, District 14, North Fork Township, Ashe County, North Carolina.

↑

He is listed as present for duty in March and April 1864.
External links