Arnold Lesleye "Arney" Weddle[1] (November 15, 1845 - July 6, 1908) served as a corporal in Company H, 13th Tennessee Volunteer Cavalry.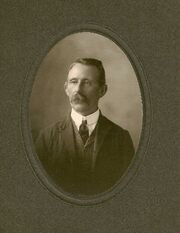 Personal life
Arnold Weddle was born November 15, 1845 in Floyd County, Virginia to Josephus and Elizabeth (Link) Weddle. He married Lucinda Ermine Motsinger (1849-1929) with whom he had six children.[2]
Civil War service
Weddle enlisted as a private in Company H on September 24, 1863 in Carter County, Tennessee for a period of three years and mustered in October 28, 1863 at Strawberry Plains, Tennessee. He was appointed corporal on August 1, 1864.
He is described as 18 years old, 5' 5" tall, dark complexion, hazel eyes, light hair, and by occupation a farmer.
Weddle is listed as present for duty throughout his term of service for which muster roll records have survived.
Weddle mustered out with the regiment on September 5, 1865 at Knoxville. He had last been paid to August 31, 1864, owed $40.72 to the government for clothing, had been paid a $25 bounty, and was owed a $75 bounty.
Post-war life
After the war, Weddle moved to Indiana and then to Lemoore, California in 1886. He was an active member of McPherson Post Number 51, Grand Army of the Republic, in Hanford, California.
Weddle applied for an invalid's pension on June 27, 1884. He died July 6, 1908 in Kings County, California and is buried at Grangeville Cemetery in Armona California. His wife applied for a widow's pension on August 11, 1908.
His obituary states that he was "a man universally respected, and has many close friends among the older settlers of this vicinity, who will regret his sudden death."[3]
Notes
↑

His middle name is also spelled "Leslie" by his descendants.

↑

1900 U.S. Census, Lemoore Township, Kings County, California.

↑ Hanford Sentinel, July 9, 1908, p. 4.
External links