Benjamin Burns Ferguson (November 14, 1832 - April 7, 1905) served as 1st lieutenant in Company F, 13th Tennessee Volunteer Cavalry.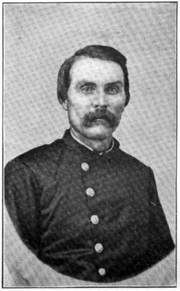 Personal life
Benjamin Ferguson was born November 14, 1832 in Carter County, Tennessee to William Henry and Mary (Burns) Ferguson. He married Julia Ann Lewis (1840-1927) with whom he had six children.[1]
Bridge Burner
Ferguson was an active participant in the bridge burnings in 1861, however which bridge and group he was involved with is uncertain.[2]
Civil War service
Ferguson enlisted in Company F on September 21, 1863 at Strawberry Plains, Tennessee for a period of three years. He mustered in October 28, 1863 at Strawberry Plains and was appointed 1st lieutenant on November 8, 1863.
Ferguson is listed as present for duty until May 12, 1864 when he is noted as sick.[3] He was captured November 13, 1864 at Morristown, Tennessee and held as a prisoner of war in the Department of West Virginia and East Tennessee beginning November 21, 1864. On January 20, 1865, Ferguson was admitted to the hospital at Danville, Virginia with "Rheum chro.".[4] He was returned to prison at Richmond, Virginia on February 6, 1865 and was paroled and exchanged at James River, Virginia on February 22, 1865. From there, Ferguson was admitted to Officers U.S.A. Hospital (Branch of Division No. 1 General Hospital) at Annapolis, Maryland on February 23, 1865. He recovered and was granted a leave of absence for 30 days beginning March 12, 1865.
Ferguson mustered out on August 25, 1865 in accordance to Paragraph 2, Special Order No. 49, Headquarters of the Department of Tennessee.
According to the regimental history, "He was an uncompromising Union man, brave and fearless in proclaiming his love for the old flag. He had the distinction of having the first commission issued to an officer of the Thirteenth Tennessee Cavalry." It further states, "Lieut. Ferguson was a good officer, always ready to perform every duty assigned him, and had the respect and confidence of his superior officers."[5]
Post-war life
Ferguson applied for an invalid's pension on October 12, 1868. He died April 7, 1905 in Carter County and is buried at Ritchie Cemetery in Elizabethton. His wife applied for a widow's pension on May 5, 1905.
Notes
External links