Caleb M. Emmert (January 19, 1840 - April 25, 1916) served as 2nd lieutenant in Company H, 13th Tennessee Volunteer Cavalry.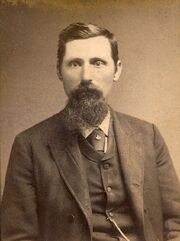 Personal life
Caleb Emmert was born January 19, 1840 in Carter County, Tennessee to Jacob Brown and Katherine (Morrell) Emmert. He married Hester Ann "Nettie" Tipton (1851-1937) with whom he had two children.
Bridge Burner
Emmert was an active participant in the bridge burnings in 1861, however which bridge and group he was involved with is uncertain. He was arrested, but escaped and hid along with other Union sympathizers until he could safely enlist in the Army.[1]
Civil War service
Emmert enlisted as a private in Company H on September 24, 1863 at Carter's Station, Tennessee for a period of three years. He mustered in October 20, 1863 at Strawberry Plains, Tennessee and was appointed 1st sergeant by Colonel Miller. He mustered out as 1st sergeant on July 16, 1865 at Knoxville to accept an officer's commission and was mustered in as 2nd lieutenant on June 22, 1865 at Lenoir, Tennessee.
Emmert mustered out August 25, 1865 in accordance to Paragraph 2, Special Order Number 49. He had last been paid to August 31, 1864 and was present for duty throughout his service.
According to the regimental history, "Lieutenant Emmert was a loyal man and a good soldier, and was highly esteemed by both officers and men."[2]
Post-war life
Emmert studied medicine under Dr. James M. Cameron and became a successful physician. He applied for an invalid's pension dated March 3, 1887. His wife applied for a widow's pension on May 4, 1916.
Emmert died April 25, 1916 in Elizabethton, Tennessee and is buried at Highland Cemetery in Elizabethton.
Notes
↑

It is likely that he was involved with the burning of the Holston River Bridge at Union (now Bluff City) in November 1861.

↑

Scott & Angel, p. 305.
External links