Christofer Columbus "Christy" Hart (April 11, 1846 - September 13, 1927) served as a private in Company H, 13th Tennessee Volunteer Cavalry.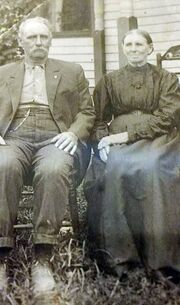 Personal life
Edit
Christofer Columbus "Christy" Hart was born to Abraham and Mary Elizabeth (Crowe) Hart in Carter County, Tennessee. He married Julie Alice Taylor (1850 - 1930) in 1868. Together they had at least eight children.
Civil War service
Edit
Hart enlisted September 24, 1863 in Carter County, Tennessee for a period of three years. He mustered in October 18, 1863 at Strawberry Plains, Tennessee. His given name is also found in records as "Christopher", "Chrisley", "C. C.", and "Christey".
He is listed as present for duty throughout his term of service.
Hart mustered out September 5, 1865 at Knoxville. He had been paid through August 31, 1864 and owed $37.37 for clothing and received a bounty of $25 for his service with another $75 due to him.
Post-war life
Edit
Hart applied for an invalid's pension dated May 31, 1888. His wife applied for a widow's pension on October 5, 1927. He died September 13, 1927 of "tuberculosis of bowels" in Carter County and is buried in Mottern Cemetery in Carter County.
External links
Edit