David Alexander Greever (February 13, 1849 - November 8, 1890) served as a corporal in Company E, 13th Tennessee Volunteer Cavalry.
Personal life
David Greever was born February 13, 1849 in Johnson County, Tennessee to Valentine and Sarah Jane (Argenbright) Greever. He married Edith Johnson (1865-1942) with whom he had one child.[1]
Civil War service
Greever enlisted as a private in Company E on September 24, 1863 in Greeneville, Tennessee for a period of three years and mustered in October 28, 1863 at Strawberry Plains, Tennessee. He was appointed corporal on October 28, 1863.
He is described as 18 years old, 5' 6" tall, fair complexion, black eyes, light hair, and by occupation a farmer.
Greever is listed as present for duty throughout his term of service for which muster roll records have survived. In June and July 1865 he was detailed as an orderly.
Greever mustered out with the regiment on September 5, 1865 at Knoxville. He had last been paid to August 31, 1864, owed $0.77 to the government for clothing, had been paid a $25 bounty, and was owed a $75 bounty.
Post-war life
Soon after the war, Greever went west, eventually landing in Kansas City, Missouri where he became a successful stockman.[2] By 1876, Greever owned several sections of land in Barton County, Kansas, which he may have acquired for speculation or for his cattle business interests.[3]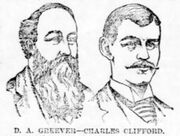 His murder
By 1890, Greever was going through a very public divorce initiated by his wife and described by newspapers as "sensational". On the afternoon of Friday, November 7, 1890, he went to the Hotel Andrews in Kansas City where he entered the room of Belle Clifford. She stated that she was alone at the time and had received "insulting propositions from her visitor." Her husband, Charles Clifford, entered the room soon after she and Greever had a short exchange. Charles attacked Greever whom he claimed was attempting to draw a pistol. Charles then drew his pistol fired three shots at Greever--all of which hit him as he fled the room--and he collapsed in the hotel's lobby. Belle stated to a policeman that, "I don't know how bad that man is shot, but I hope he will die; he deserves to for acting toward me as he did. Why, I didn't know him at all, only as a boarder. Mrs. Ball [the hotel's landlady] introduced him to me in her room, and in the two weeks we have been here I met him only at meal time."[4] Belle then reportedly left the city that day for Leavenworth, Kansas to visit Elmer Brewster, her brother-in-law. Attempts to locate Mrs. Clifford in Leavenworth on November 8 were not successful and she was thought to be hiding in Kansas City to avoid being charged "with complicity in Greever's murder."[5]
From his deathbed, Greever gave this statement: "This was a blackmailing scheme. I drove up this afternoon with George Keck, of the Fish & Keck Commission company, and Fred Tainter. We went into the saloon and ordered some cocktails. Then I went upstairs into the hotel while the two men waited for me. I wanted to see Mrs. Ball, the proprietress of the house. She was not in, and I there saw Mrs. Clifford, wife of the man who shot me. I asked Mrs. Clifford where Mrs. Ball was, and she said she was out and asked me to come in and have a seat. I did so. We talked for a few minutes, and then I started to go away. When she insisted upon my staying I said, 'No; my time is up, and I must go.' Just then [Charles] Clifford stepped into the open window, revolver in hand and said, 'You ---- --- -- -----, throw up your hands!' I said, 'No, I won't throw up my hands.' Clifford then fired the shot which struck me in the back, and fired four other shots. I think the whole thing was a blackmailing scheme planned by a man named Charles Fagin and another man named Smith. I can account for it in no other way except that they wished to get money out of me."[6]
Greever's wounds were mortal and he died at the Hotel Andrews on the afternoon of November 8.
Aftermath
Charles Clifford, who presented himself as a New York professional lightweight fighter, and his wife were held by a coroner's jury on a charge of murder. Regardless of who was telling the truth, Charles Clifford was arraigned and indicted for the murder of David Greever.
It was discovered that Clifford was using an assumed name when P. F. Dogge, clerk for C. W. Fleischer, Justice of the Peace, at Helena, Montana submitted a letter stating that he had known Clifford in Lincoln, Nebraska before he married Belle Fairchild. Clifford was really Charles Donalds [Donnelly] and Dogge attested that Herbert Fairchild (a brother-in-law) possessed "facts regarding Donalds' past life ... that reflect very severely on him and charges him with many offenses."[7] He added that Donalds had "broke jail" in Lincoln, but records of that escape had not been located at the time the letter was written. The letter was shown to Kansas City Police Chief Speers who, "has always insisted that 'Clifford' was an assumed name."[8]
Charles Clifford was sentenced to two years in the Missouri State Penitentiary. In his statement to the court newspapers reported: "When Chas. Clifford, the pugilist who killed Stockman David Greever, at Kansas City, was sentenced to two years in the penitentiary, he made a thrilling speech in court. 'The fatal shot was fired' he said 'in defense of the honor of his wife and the purity of his child. In following Greever in his fight, he acted on the instincts of the prize ring.' He became angry on the stand, he said, because he saw two men laughing at the tears of his wife. A petition for Clifford's pardon was immediately put into circulation. Eleven of the jurymen who convicted him signed it."[9] No record of a pardon has been found. On August 19, 1891, Belle Clifford applied for a divorce "alleging extreme cruelty on the party of her husband, whose real name is Donnelly. [He] assaulted her with a knife, cutting her cruelly in the arms. Donnelly is now in the pen at Jefferson City, under two years sentence."[10]
Greever is buried at Elmwood Cemetery in Kansas City. His wife applied for a widow's pension on May 4, 1891. Kittie Johnson, his only child, applied for a minor's pension on March 7, 1898. At the time of his death, Greever's estate was valued at over $225,000 [nearly $6.5 million in 2019]. All of Greever's estate was left to Kittie and held in trust by George Keck until she arrived at "her majority".[11]
Notes
External links