Drewry Johnson (abt 1832 - July 23, 1889) served as a blacksmith in Company D, 13th Tennessee Volunteer Cavalry.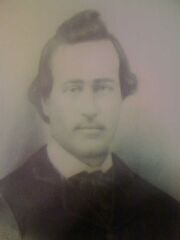 Personal life
Drewry Johson was born about 1832 in Surry County, North Carolina. He married Emily Shupe (abt 1833-1918) with whom he had nine children.[1]
Civil War service
Johnson enlisted as a private in Company D on September 24, 1863 in Greeneville, Tennessee for a period of three years and mustered in October 28, 1863 at Strawberry Plains, Tennessee. He was appointed company blacksmith on November 1, 1863 by order of Colonel Miller.
He is described as 30 years old, 5' 11" tall, dark complexion, blue eyes, black hair, and by occupation a farmer.
Johnson is listed as present for duty throughout his term of service for which muster roll records have survived.
Johnson mustered out with the regiment on September 5, 1865 at Knoxville. He had last been paid to August 31, 1864, owed $14.35 to the government for clothing, had been paid a $25 bounty, and was owed a $75 bounty.
Post-war life
Johnson applied for an invalid's pension on December 22, 1887. He died July 23, 1889 in Johnson County, Tennessee and is buried at Phillippi Cemetery in Mountain City, Tennessee. His wife applied for a widow's pension on August 9, 1889.
Notes
↑

1900 U.S. Census, 2nd Civil District, Johnson County, Tennessee.
External links