Elijah D. Harden Jr. (June 25, 1837 - February 15, 1897) served as a private in Company L, 13th Tennessee Volunteer Cavalry.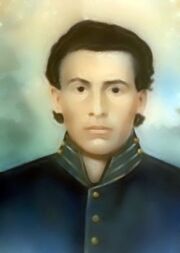 Personal life
Elijah Harden was born June 25, 1837 in Carter County, Tennessee to Elijah D. and Levisa (Stover) Harden. He married Eliza Caroline "Carrie" Potter (1838-1909) with whom he had at least ten children.
Civil War service
Harden enlisted in as a private in Company L on September 21, 1863 in Carter County, Tennessee for a period of three years. He mustered in April 11, 1864 in Nashville, Tennessee.[1]
Harden was appointed sergeant on September 1, 1864. For some unstated reason, he was reduced to the rank of private on March 25, 1865. Harden is listed as present for duty throughout his term of service.
Harden mustered out with regiment on September 5, 1865 at Knoxville. He had last been paid to August 31, 1864. Harden owed $11.27 to the government for clothing, had received a bounty of $25, and was owed a $75 bounty.
Post-war life
Harden applied for an invalid's pension on February 6, 1886. His wife applied for a widow's pension on February 24, 1897.
He died February 15, 1897 in Carter County and is buried at Hardin Cemetery in Elizabethton.[2]
Notes
↑ Harden may have previously served as a private in Company B or D, 8th Tennessee Volunteer Infantry, but no records of his service with the regiment have been located in The Tennessee Adjutant General's Report.
↑

Oddly, he has two government headstones. One is set at the head of his grave and the other at the foot.
External links