Frederick Slimp (November 26, 1824 - September 26, 1904) served as a captain in Company H, 13th Tennessee Volunteer Cavalry.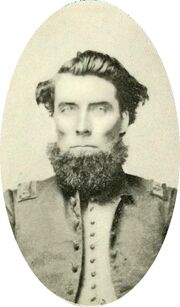 Personal life
Frederick Slimp was born November 26, 1824 in Johnson County, Tennessee to Michael and Nancy Ann (Reasor) Slimp. Slimp was married two times: Naomi Ward (1834-1888) and Martha Stout (1863-1936). He fathered at least 12 children.
Civil War service
Slimp enlisted September 22, 1863 as captain of Company H for a period of three years at Strawberry Plains. He mustered in January 1, 1864 at Camp Nelson, Kentucky.
Slimp submitted his resignation on July 18, 1864 and was left sick at Gallatin, Tennessee on August 1, 1864. Assistant Surgeon James M. Cameron stated in his examination affidavit that Slimp was suffering from "general debility and chronic diarrhea" and that he believed he could serve in the Veteran Reserve Corps.
Per Special Orders No. 283, War Department, Adjutant General's Office dated August 27, 1864, Slimp "having tendered his resignation, on account of physical disability, is hereby mustered out of service, as of the date of muster-in, he having been unfit for duty since the organization of the regiment, and rendered no service to the Government." Although he formally resigned in 1864, his honorable discharge from the service was not recognized by the War Department until 1888 due to a clerical error.
Slimp was one of many Union men of Johnson County whose family suffered atrocities committed by rebel bushwhackers during the war. His wife, Naomi, was a victim of Confederate outlaws who were looking for Slimp on one of his visits home: "Positive demand was made on Mrs. Slimp and children to tell where their victim could be found. This being impossible they made dangerous threats, flew into a rage over their disappointment. They kicked her, knocked her down with a heavy stick, inflicting a severe wound on the head, and as they supposed left her dead on the floor. Her wound bled profusely. When she went down into her grave the scar went with her."[1]
According to the regimental history, "He was held in high esteem by the men and officers of the Regiment. His many acts of kindness in writing letters for the men who were sick or could not write, and his advice and counsel to the younger men will be remembered by many of the surviving comrades."[2]
Later life
Slimp served in the Tennessee General Assembly (1869-1871), was appointed circuit court clerk of Johnson County (serving two years), and elected to the position for a four-year term. He and his wife lived in Butler where they operated an inn.
He applied for an invalid's pension January 14, 1882.
Slimp died September 26, 1904 in Butler, Tennessee and is buried in Mountain View Cemetery in Mountain View, Tennessee. His wife applied for a widow's pension on October 27, 1904.
Notes
External links