Gilson Oliver "Ollie" Collins (Apr 1826 - February 23, 1906) served as a captain in Company M, 13th Tennessee Volunteer Cavalry.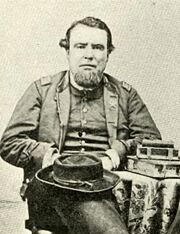 Personal life
Gilson Collins was born April 1826 in Washington County, Virginia to Gilson Oliver and Martha "Mattie" (Campbell) Collins. Collins was married two times: Emily P. Fletcher (1827-1872) and Palla Verda McKinney (1843-1926). He fathered at least ten children.
Bridge Burner
Collins was an active participant in the bridge burnings in 1861, and helped burn the bridge across the Holston River at Zollicoffer. Because of his outspoken loyalties and Unionist activities, he was considered a "marked man" by Confederate authorities. Collins fled Tennessee for Kentucky where he formally joined the U.S. Army.
Civil War service
Collins enlisted July 22, 1862 as a private in Company H, 2nd Tennessee Volunteer Infantry at Cumberland Gap, Kentucky for a period of three years and mustered in June 5, 1863 at Somerset, Kentucky. He was appointed corporal November 1, 1862 while on detached duty in Lexington, Kentucky.
During Brigadier General Samuel P. Carter's raid into East Tennessee in late 1862, Collins was detailed to serve as an orderly to Carter. When Carter learned that Collins had been one of the Bridge Burners at Bluff City (then Zollicoffer), he gave him the opportunity to repeat the event of November 8, 1861. As he fired the rebuilt bridge, Collins reportedly said: "I was accused of burning a bridge here once before, if you'll watch me you will see that I am guilty this time."[1]
Collins was captured along with his regiment on November 6, 1863 at Rogersville, Tennessee during the Knoxville Campaign. He deserted the regiment on October 10, 1864 at Knoxville for striking an officer who had made disparaging remarks about Tennesseeans. Despite having deserted the 2nd Tennessee Infantry, which was noted on the muster rolls, Colonel James Carter approved his honorable discharge from the regiment.
Collins was transferred March 21, 1865 to Company M, 13th Tennessee Volunteer Cavalry to accept an appointment as a captain for a period of three years on March 21, 1865 in Knoxville, Tennessee and mustered in the same day to fill the vacancy caused by the Captain James B. Wyatt who was killed in action.[2]
Collins mustered out August 25, 1865 in accordance to Paragraph 2, Special Order Number 49. When the regiment mustered out on September 5, 1865 at Knoxville, it was noted on the rolls that he had never been paid for his service.
Later life
He applied for an invalid's pension September 20, 1879. Collins died on or about February 23, 1906 in Carter County, Tennessee and is buried in Williams Cemetery in Valley Forge, Tennessee.[3] His wife applied for a widow's pension on March 3, 1906.
Notes
↑

Scott & Angel, p. 106.

↑

According to one record, his appointment as captain was dated March 18, 1865, but this appointment letter has not survived.

↑ His obituary appears in the Knoxville Sentinel, February 23, 1906, p. 15.
External links