Hezekiah Woodby (May 1, 1836 - March 28, 1920) served as private in Company B, 13th Tennessee Volunteer Cavalry.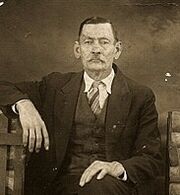 Personal life
Hezekiah Woodby was born in Carter County, Tennessee to Epaphrododus and Mary Martha (Douglas) Woodby. He married Elizabeth Brummett (1842-1923) with whom he had at least seven children.
Civil War service
Woodby enlisted in Company B on September 23, 1863 in Carter County, Tennessee for a period of three years. He mustered in October 28, 1863 at Strawberry Plains, Tennessee.
He is listed as present for duty until August 17, 1864 when he is reported as "absent sick at Knoxville". Woodby was admitted to the Asylum General Hospital in Knoxville where he remained until September 8, 1864. He is then listed as having deserted on October 28, 1864 and returned to the regiment on May 5, 1865. This, however, was determined to be an error as noted in a War Department report dated December 26, 1874: "He rejoined his regiment and remained therewith until on or about Oct. 28, 1864 when the regiment was ordered on a scout when he being without a horse and sick was left behind. He made his way to his home where he remained sick and unable to travel by reason on Chronic Diarrhea until on/or about May 5, 1865. The charge of desertion is removed."
Woodby mustered out September 5, 1865 at Knoxville. He had been paid through June 30, 1864 and owed $30.52 for clothing and received a bounty of $25 for his service.
Post-war life
Woodby applied for an invalid's pension dated May 13, 1880. He died March 28, 1920 in Unicoi County, Tennessee and is buried at Woodby Cemetery in Unicoi County. His wife applied for a widow's pension dated April 17, 1920. His son William Pickney Woodby (1863 - 1944) applied for a "H.C." pension on June 17, 1926.
External links