Isaac Rader (April 21, 1841 - July 1, 1912) served as a private in Company H, 13th Tennessee Volunteer Cavalry.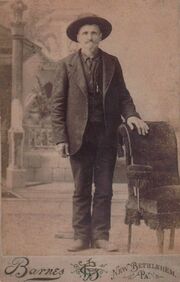 Personal life
Isaac Rader was born April 21, 1841 in Clarion County, Pennsylvania to George and Susannah (Ferringer) Rader.[1] He married Mary Jane Hill (1849-1934) with whom he had twelve children.[2]
Civil War service
Rader first enlisted as a private in Company C, 78th Pennsylvania Infantry (3-month regiment) on August 29, 1861 at Camp Orr near Kittanning, Pennsylvania and was discharged December 4, 1862 at Nashville, Tennessee due to disability.[3] He then enlisted as a private in Company D, 4th U.S. Cavalry on December 1, 1862 at Nashville and is listed as deserting March 13, 1863.[4] Rader next enlisted in Company I, 13th Tennessee Volunteer Cavalry on November 2, 1863 in Knoxville, Tennessee for a period of three years and mustered in April 13, 1864 at Nashville, Tennessee. He was transferred to Company H on April 14, 1864 by order of Major Doughty.
He is described as 22 years old, 5' 8" tall, fair complexion, dark eyes, dark hair, and by occupation a farmer.
Rader is listed as present for duty for which muster roll records have survived. He was detailed as a teamster in May 1864 and to the quartermaster's department in June 1864. Rader was granted a leave of absence on August 18, 1864; when he returned to the regiment is not recorded.
Rader mustered out with the regiment on September 5, 1865 at Knoxville. He had last been paid to August 31, 1864, owed $28.03 to the government for clothing, had been paid a $25 bounty, and was owed a $275 bounty.
Post-war life
Rader was a member of the Grand Army of the Republic, William McKinley Post No. 105 in Knoxville.[5]
He applied for an invalid's pension on July 24, 1890. Rader died July 1, 1912 in Concord, Tennessee and is buried at Holston College Cemetery in Louisville, Tennessee. His wife applied for a widow's pension on July 13, 1912.
Notes
External links