Isaac Alex Shoun (March 3, 1843 - August 28, 1923) served as a corporal in Company D, 13th Tennessee Volunteer Cavalry.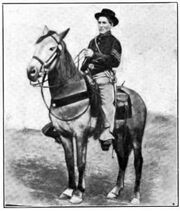 Personal life
Isaac Shoun was born March 3, 1843 in Johnson County, Tennessee to Isaac C. and Katherine Mary (Wills) Shoun.[1] He married Sarah L. Robinson (1848-1934) with whom he had one child.[2]
While still and infant, Shoun's father died. His mother was a staunch Unionist and "she prepared food and with her own hands bore it to her friends and relatives who were in hiding; often in the darkness of the night or in the most inclement weather. For this reason she was shamefully abused and mistreated by rebel soldiers, and her horses and property taken from her."[3]
Civil War service
Shoun enlisted as a private in Company D on September 24, 1863 in Greeneville, Tennessee for a period of three years and mustered in October 28, 1863 at Strawberry Plains, Tennessee. He was promoted to sergeant on October 1, 1863 by order of Colonel Miller. Shoun was reduced to the ranks August 4, 1864 at his request. He was later promoted to corporal on June 25, 1865.
He is described as 20 years old, 5' 7" tall, fair complexion, black eyes, dark hair, and by occupation a farmer.
The regimental history states that he was one of the "Sharp Shooters" under the command of Sergeant (later lieutenant) Peter L. Barry. Shoun and the sharpshooters charged the Confederate artillery at Greeneville on September 24, 1864. He later received a sabre cut in the charge at Morristown on October 28, 1864.[4]
Capture and escape
Shoun is listed as present for duty until November 13, 1864 when he was captured at Morristown, Tennessee following the retreat from the Battle of Bull's Gap. According to his account in the regimental history, he was "marched, on foot, to Jonesboro, where he was placed in the cars to be sent to prison at Richmond, Va."[5] It was at Bristol, Tennessee that he and his brother Elihu "jumped from the train and made their escape amidst a shower of bullets that was sent after them. They made their way in the cold and snow over the Holston Mountains to their home in Johnson county and soon afterwards rejoined the Regiment.[6] He returned to the regiment "about" May 1, 1865.[7]
Shoun mustered out with the regiment on September 5, 1865 at Knoxville. He had last been paid to June 30, 1864, was owed $16.62 from the government for clothing, had been paid a $25 bounty, and was owed a $75 bounty.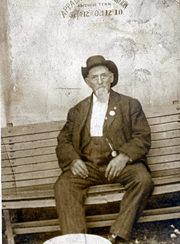 Post-war life
Shoun applied for an invalid's pension on January 8, 1873. He died August 28, 1923 in Bristol, Tennessee and is buried at Shoun-McEwen Cemetery in Butler, Tennessee. His wife applied for a widow's pension on October 6, 1923.
Notes
External links