James C. Jackson (September 1, 1841 - December 8, 1936) served as private in Company G, 13th Tennessee Volunteer Cavalry.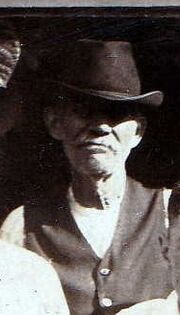 Personal life
James Jackson was born September 1, 1841 in Carter County, Tennessee to William Carroll and Sophia Elizabeth (Shook) Jackson.[1] He married Mary Campbell (1848-1901) with whom he had at least eleven children.
Civil War service
Jackson enlisted in Company G on September 24, 1863 in Carter County, Tennessee for a period of three years. He mustered in October 28, 1863 at Strawberry Plains, Tennessee.
Jackson is listed in the company records as absent without leave when he left camp at New Market, Tennessee on November 20, 1863.[2] He was charged with desertion the following day. He returned to the regiment March 15, 1864 and was restored to duty on April 9, 1864. Jackson was present for duty throughout the remainder of his service until captured by rebel soldiers. The charge for desertion was removed by the Adjutant General's Office, War Department on April 27, 1889 per the act of Congress passed on March 2, 1889. He was still listed as "absent without proper authority" from November 20, 1863 to April 9, 1864.[3]
On November 13, 1864, Jackson was captured at Bull's Gap, Tennessee.[4] He was held as a prisoner of war and sent to Richmond, Virginia on February 20, 1865. Jackson was paroled on February 22, 1865 at James River, Virginia, then sent to Camp Parole, Maryland and arrived at Camp Chase, Ohio on February 26, 1865. He arrived there on March 4, 1865 and was furloughed for 30 days. Jackson returned to the regiment on March 15, 1865.[5]
Jackson mustered out with the regiment on September 5, 1865 in Knoxville. He had last been paid to June 20, 1864, owed the government $29.88 1/2 for clothing, and had been paid a bounty of $25. A notation on the back of this record states: "Due US for transportation $2.80. Paid from Dec. 31, 64 to Feby 28, 65. Present for duty, discharge furnished."
Post-war life
Jackson applied for an invalid's pension dated June 28, 1889. He died December 8, 1936 in Johnson City, Tennessee and is buried at Hall Cemetery in Braemar, Tennessee. Jackson was one of the very last surviving members of the regiment at the time of his death.
Notes
External links