James R. Allen (abt 1845 - September 10, 1923) served as bugler in Company D, 13th Tennessee Volunteer Cavalry.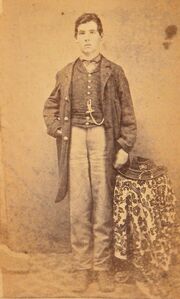 Personal life
Allen was born in Johnson County, Tennessee to Wesley L. and Caroline Elizabeth (Donnelly) Allen. He married Mary Evelyn Jenkins (1872-1955) with whom he had at least two children, one was likely a child from Mary's previous marriage.
Civil War service
James Allen enlisted in Company D on September 24, 1863 at Greeneville, Tennessee for a period of three years. He mustered in November 8, 1863 at Strawberry Plains, Tennessee.
Allen is described as 18 years old, 5'6", light complexion, black eyes, and dark hair. He was born in Johnson County, Tennessee and at the time of enlistment his occupation was "laborer".
Allen was appointed bugler October 1, 1863 by order of Colonel John Miller. He is listed as present for duty throughout his service and was detailed December 1864 through July 1865 as an orderly at regimental headquarters.
He mustered out with the regiment at Knoxville, Tennessee on September 5, 1865. At the time he owed $27.73 for clothing and was owed $75.00 in bounty.
Post-war life
Allen applied for an invalid's pension dated May 18, 1888. He died September 10, 1923 in Johnson County and is buried at Mountain View Cemetery in Mountain City, Tennessee. His wife Mary applied for a widow's pension dated June 17, 1926.
External links