Jesse Bradley (April 21, 1829 - October 17, 1865) served as a blacksmith in Company F, 13th Tennessee Volunteer Cavalry.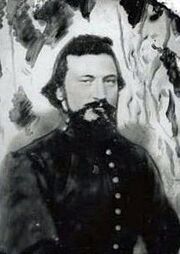 Personal life
Jesse Bradley was born in North Carolina. He married Susannah "Susan" Slimp (1832 - 1924) with whom he had least eight children.
Civil War service
Bradley enlisted as a private in Company H on October 1, 1863 at Camp Nelson, Kentucky for a period of three years.[1] He mustered in February 25, 1864 at Nashville, Tennessee and was transferred to Company F and assigned as the company blacksmith the previous day by order of Colonel John K. Miller.
Bradley is listed as present for duty until November 12, 1864[2] when he was captured in action at Morristown, Tennessee and sent to Richmond, Virginia, where he was then sent to the prisoner of war camp at Danville, Virginia. On the May/June 1865 muster roll it is noted: "Absent. Hospl Baltimore Md since Feby 25th 65". In a War Department Adjutant General's record dated December 5, 1877, it states: "Paroled at James River Va. Feby 22, 1865. Admitted to Hospital Annapolis Md. same day and sent to Baltimore Md March 7th 1865. Was admitted to Newton General Hospital Baltimore Md. March 8, 1865. Was furloughed April 4, 1865. No record of his return from furlough."[3]
Bradley mustered out September 5, 1865 at Knoxville despite not being present. He had been paid through October 31, 1864, had received a bounty of $25, and was owed a $75 bounty.
Later life
Bradley died October 17, 1865 in Lee County, Kentucky and is buried in Cable-Hobbs Cemetery in Lee County.[4] His wife applied for a widow's pension on January 4, 1871.
Notes
External links