John Gray (May 12, 1848 - August 22, 1932) served as a private in Company H, 13th Tennessee Volunteer Cavalry.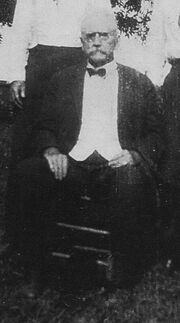 Personal life
John Gray was born May 12, 1848 in Washington County, Tennessee to Adin and Malinda (Nelson) Gray. He married first Ruhamah Jane "Ruey" Rambo (1851-1918) with whom he had fourteen children.[1] He married second Cora Hull (1879-1938); they had no children.
Civil War service
Gray enlisted in Company H on October 9, 1864 in Knoxville, Tennessee for a period of three years and mustered in September 1, 1865 at Knoxville. He was transferred to Company F before December 1863.
He is described as 18 years old, 5' 3" tall, dark complexion, dark eyes, dark hair, and by occupation a farmer. Clearly he lied about his age and would have been 16 at enlistment.
Gray appears to have been present for duty throughout his term of service, however his records are incomplete.
Gray mustered out with the regiment on September 5, 1865 at Knoxville. He had never been paid, was owed $12.45 from the government for clothing, and was owed a $100 bounty.
Post-war life
Gray applied for an invalid's pension on March 2, 1887. He was admitted to the National Home for Disabled Volunteer Soldiers on July 7, 1905 where he was treated for a hernia, neuralgia, general debility, and hemorrhoids; he indicated that the hernia occurred while in the service on March 15, 1865. Gray was discharged from the hospital on December 10, 1906. When he was admitted his age is given as 58, 5' 10" tall, dark complexion, dark eyes, dark hair, and by occupation a carpenter; he was receiving a $12 per month pension. Gray was an active member of the Grand Army of the Republic.
Gray died August 23, 1932 in Greeneville, Tennessee and is buried at Mount Pisgah United Methodist Church Cemetery in Sunnyside, Tennessee.
Notes
↑

1900 U.S. Census, District No. 24, Greene County, Tennessee.
External links