John Richard Taylor (abt 1831 - March 15, 1864) served as a corporal in Company F, 13th Tennessee Volunteer Cavalry.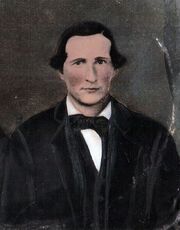 Personal life
Taylor was born about in 1831 in Carter County, Tennessee to Richard and Margaret (Pierce) Taylor. He married Sarah Jane Forrester (1837-1919) with whom he had four children.[1]
Civil War service
Taylor enlisted as a private in Company F on September 20, 1863 in Elizabethton, Tennessee for a period of three years and mustered in November 8, 1863 at Strawberry Plains, Tennessee. He was appointed corporal on November 8, 1863 by order of Colonel Miller.
He is described as 32 years old, 5' 8" tall, fair complexion, blue eyes, light hair, and by occupation a farmer.
Taylor is listed as present for duty until his death on March 15, 1864 at Camp Gillum in Nashville due to "congestion".[2] He is buried at Nashville National Cemetery in Madison, Tennessee.
When the regiment on September 5, 1865 at Knoxville it was noted that had last been paid to December 31, 1863, had been paid a $25 bounty, and was owed a $75 bounty.[3]
A minor's pension was sought by E. B. Lee on September 17, 1866.[4]
Notes
External links