Joseph Thomas "Lucky Joe" Wilson (June 28, 1846 - February 16, 1905) served as a corporal in Company I, 13th Tennessee Volunteer Cavalry.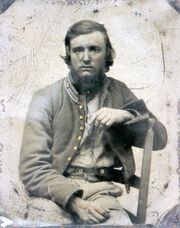 Personal life
Joseph Wilson was born June 28, 1846 in Johnson County, Tennessee to William and Martha (Main) Wilson. He married Elizabeth C. Jones (1850-1908) with whom he had nine children.[1]
Civil War service
Wilson enlisted as a private in Company I on September 22, 1863 in Taylorsville, Tennessee for a period of three years and mustered in April 13, 1864 at Nashville, Tennessee. He was appointed corporal on April 14, 1864 by order of Colonel Miller.
He is described as 18 years old, 5' 8" tall, fair complexion, blue eyes, light hair, and by occupation a farmer.
Wilson is listed as present for duty until October 5, 1864 when he deserted and was reduced to the ranks. He returned to the regiment January 10, 1865. Wilson was pardoned by order of Governor Andrew Johnson and appointed corporal to dated from June 1, 1865. He fulfilled the remainder of his term of service without incident.
Wilson mustered out with the regiment on September 5, 1865 at Knoxville. He had last been paid to June 30, 1864, owed $82.34 to the government for clothing in kind or money advanced, had been paid a $25 bounty, and was owed a $75 bounty.
Post-war life
Wilson led a notorious life after the war, and gave himself the nickname "Lucky Joe" for his various exploits, including numerous arrests and escapes from jails.
Wilson died February 16, 1905 in Iredell County, North Carolina and is buried at Zionsville Baptist Church Cemetery in Watauga County, North Carolina. He died in the county jail while serving a term on a chain gang for assaulting his wife.[2] Wilson's extensive land holdings were auctioned on October 28, 1905 to pay his debts.[3] His wife applied for a widow's pension on March 4, 1905. His son William W. Wilson applied for a minor's pension on December 11, 1908.
Notes
↑

1900 U.S. Census, Beaver Dam Township, Watauga County, North Carolina.

↑ The Charlotte News, February 15, 1905, p. 6.
↑ Watauga Democrat, February 26, 1905, p. 2.
External links