Melvin Columbus Wolfe (November 1840 - February 13, 1917) served as a corporal in Company E, 13th Tennessee Volunteer Cavalry.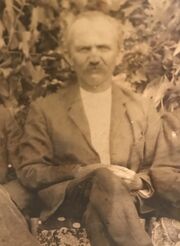 Personal life
Melvin Wolfe was born in November 1840 in Surry County, North Carolina to James Fitzgerald and Pharaby Elizabeth (Smith) Wolfe. He married Rebecca Vines (1830-1899) with whom he had two children.[1]
Civil War service
Wolfe enlisted as a private in Company L on March 1, 1864 in Nashville, Tennessee for a period of three years and mustered in March 1, 1864 at Elizabethton, Tennessee. He was transferred to Company E on April 12, 1864 by order of Colonel Miller and appointed corporal on November 1, 1864.
He is described as 19 years old, 5' 9" tall, fair complexion, blue eyes, light hair, and by occupation a farmer.
Wolfe is listed as present for duty throughout his term of service for which muster roll records have survived.
Wolfe mustered out with the regiment on September 5, 1865 at Knoxville. He had last been paid to August 31, 1864, owed $3.57 to the government for clothing, had been paid a $60 bounty, and was owed a $240 bounty.
Post-war life
Wolfe applied for an invalid's pension on June 11, 1889. He died February 13, 1917 in Johnson County, Tennessee and is buried there at Wolfe Cemetery.[2]
Notes
↑

1900 U.S. Census, 9th Civil District, Johnson County, Tennessee.

↑

His headstone is the only place where the spelling of his name is "Melvan".
External links