Murphy Abraham Heaton (August 12, 1847 - April 7, 1930) served as a private in Company M, 13th Tennessee Volunteer Cavalry.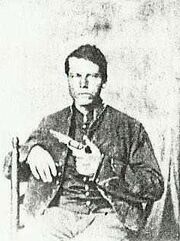 Personal life
Murphy Heaton was born August 12, 1847 in Johnson County, Tennessee to Joseph and Sarah (Grindstaff) Heaton.[1] He married first Sarah Jane Roberts (1840-1908) with whom he had seven children.[2] He married second Hannah Potter (1880-1963) with whom he had one child.
Civil War service
Heaton enlisted as a private in Company M on February 2, 1864 in Knoxville, Tennessee for a period of three years and mustered in May 15, 1864 at Gallatin, Tennessee. He served as bugler in July and August 1864 according to the muster rolls.
He is described as 18 years old, 5' 5" tall, dark complexion, black eyes, black hair, and by occupation a farmer. Clearly he lied about his age and would have been 16 at enlistment.
Heaton was present for duty until September 1, 1864 when he is listed as a deserter.[3] A record from the War Department Record and Pension Office dated June 21, 1894 indicates that Heaton was left at Holston General Hospital in Knoxville and deserted from there on September 14, 1864. He returned to the regiment on May 1, 1865 and was restored to duty at the rank of private with the charge of desertion removed by President Lincoln's proclamation. He was present for duty for the remainder of his service.
Heaton mustered out with the regiment on September 5, 1865 at Knoxville. He had last been paid to June 30, 1864, owed $42.99 to the government for clothing, had received a $60 bounty, and was owed a $240 bounty.
Post-war life
Heaton applied for an invalid's pension on November 23, 1882. He died April 7, 1930 in Blount, Tennessee and is buried at Six Mile Cemetery in Blount County.
Notes
↑

His Civil War records, various census records, and his headstone give his name as Murphy A. Heaton. Other records give his name as Abraham M. Heaton.

↑

1900 U.S. Census, 8th Civil District, Blount County, Tennessee.

↑

A company descriptive book record states that he deserted October 20, 1864 at Carter's Station, Tennessee.
External links