Nehemiah Patterson "Nero" Oaks (December 3, 1826 - June 17, 1924) served as a sergeant in Company C, 13th Tennessee Volunteer Cavalry.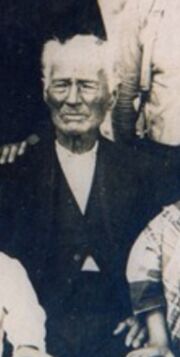 Personal life
Nehemiah Oaks was born December 3, 1826 in Mitchell County, North Carolina to David and Socca (Davis) Oaks.[1] He married Lurena Susanna Gwyn (1835-1921) with whom he had seven children.[2]
Mexican War service
Oaks enlisted as a private in Company K, 5th Tennessee Infantry on January 3, 1848 in Jonesboro, Tennessee. He mustered out July 20, 1848 at Memphis, Tennessee. The regiment went to Mexico, but the war was over before it was ever sent into action. He received a pension of $5.33 1/3 for his service beginning August 13, 1858; no information has been found if that amount was ever increased.
Civil War service
Oaks enlisted as a private in Company C on September 24, 1863 in Carter County, Tennessee for a period of three years and mustered in October 28, 1863 at Strawberry Plains, Tennessee. He was appointed sergeant September 24, 1863. His brother, Jeremiah Oaks also served in Company C.
He is described as 35 years old, 5' 9" tall, fair complexion, blue eyes, light hair, and by occupation a farmer.
Oaks is listed as present for duty until April 14, 1865 when he was admitted to Asylum General Hospital in Knoxville, Tennessee. He was discharged June 6, 1865 due to disability on orders sent via telegram from the War Department dated May 3, 1865.
When the regiment mustered out on September 5, 1865 at Knoxville it was noted that he had last been paid to August 31, 1864, owed $13.25 to the government for clothing in kind or money advanced, and had been paid a $25 bounty.
Post-war life
Oaks applied for an invalid's pension on November 6, 1882. He died June 17, 1924 in Avery, North Carolina and is buried at Oakes Cemetery on Elk River in Avery County.
His obituary states: "He was ... one of the most patriotic men of his age. He served in both the Civil and Mexican wars. At the coles [sic] of the Mexican war he was discharged at New Orleans and as there were no railroads at that time, he walked the greater part of the way home. His progress was very slow as he was very ill with malaria fever and could walk only about five miles a day. He was intensely patriotic, loyal to his flag and a lover of his country and at the outbreak of the Spanish-American war, offered his services."[3]
Notes
↑

His death certificate gives his place of birth as Elk Park, North Carolina, but that community was not established until 1882.

↑

1900 U.S. Census, Cranberry Township, Mitchell County, North Carolina.

↑ Johnson City Chronicle (Johnson City, Tennessee), June 28, 1924, p. 8. The information about his discharge at New Orleans contradicts the official records of the 5th Tennessee Infantry, which mustered out at Memphis, Tennessee.
External links