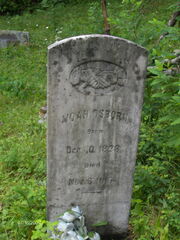 Noah Osborne (10 Dec 1838 – 8 Nov 1916) was the son of George Washington & Mary "Polly" Baldwin Osborne. Noah enlisted into Company D of the 50th Virginia Infantry, exact date unknown. There is also documentation that states that he served in the Virginia Militia in Grayson County, VA. He enlisted 24 Sep 1863 in Greenville for 3 years of service by Capt. Morris. Discharged "by instructions from the war department" in Knoxville 7 Jun 1865.
According to the story that has been past down through family members, he enlisted in the confederate army and was given a period of time to harvest his crops before reporting to duty. Within that time limit, he went to Mountain City, Johnson County, TN and enlisted into the Union Army. He served his time and became injured during the Battle at Bulls Gap, TN. Celia, his wife, then went to collect her husband, walking over 100 miles one way to get him and bring him home. Some say that due to the fact that the baby, Andrew Jackson Osborne (1862-1941), was so young at the time that Celia carried the baby with her. The reason he went and enlisted with the Union after he had already enlisted with the Confederate is contested by many different family members. Some say that there was a person he didn't like already enlisted with the Confederate Army was the reason. During my research I have also learned that many of his cousins and neighbors, including Andrew Eastridge (1844-1904), David Osborne, George Osborne (1840-1909), were enlisting into the 13th Tennessee Calvary. Many other neighbors and family members are listed in the Union and/or Confederate Armies. Noah's older brother Alexander C Osborn (1827-1962) was listed in the Confederate Rooster as Killed in Action. The actual time that "Celia went to collect her husband" doesn't seem quite right due to the fact that the Battle of Bulls Gap was in November 1964 and it being winter time. Then again from the stories that I heard of Celia Graybeal Osborne (1840-1940), the only thing I keep thinking is "one tough Broad". (There is a story of her pouring scolding hot water on a Confederate Home Guard when Noah was away at war.) Based on my research, Noah Osborne was "present" from Sep 1863 – Jun 1865.
He lived in Creston/Laurel Township of Ashe County, North Carolina until his death in 1916.
Findagrave.com Memorial #