Noah Johnson Potter (April 1, 1841 - November 25, 1911) served as a private in Company E, 13th Tennessee Volunteer Cavalry.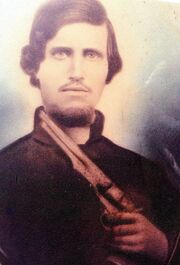 Personal life
Noah Potter was born April 1, 1841 in Carter County, Tennessee to Peter and Martha (Bunton) Potter.[1] He married Sarah Ann Bunting (1848-1933) with whom he had at least eleven children.
Civil War service
Potter enlisted as a private in Company E on September 24, 1863 in Greeneville, Tennessee for a period of three years and mustered in October 28, 1863 at Strawberry Plains, Tennessee.
He is described as 22 years old, 5' 8" tall, dark complexion, black eyes, black hair, and by occupation a farmer.
Potter is listed as present for duty throughout his term of service.
Potter mustered out with regiment on September 5, 1865 at Knoxville. He had last been paid to August 31, 1864, owed $0.25 to the government for clothing, had received a bounty of $25, and was owed a $75 bounty.
Post-war life
Potter applied for an invalid's pension on October 17, 1877.
He died November 25, 1911 in Carter County and is buried at Noah Potter Family Cemetery in Carter County. His wife applied for a widow's pension on January 9, 1912.
Notes
↑

The year of birth on his headstone is given as 1839, which is incorrect. Census records and his death certificate all indicate that he was born in 1841, corresponding with his age at enlistment.
External links