Riley Burton Hatley (November 24, 1839 - February 20, 1921) served as a corporal in Company E, 13th Tennessee Volunteer Cavalry.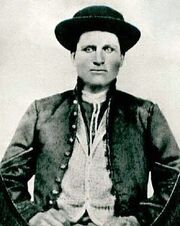 Personal life
Riley Hatley was born November 24, 1839 in Watauga County, North Carolina to William Franklin and Anna (Ford) Hatley. He married first Rachel Green (1849-1894) with whom he had twelve children. He married second Nora Armeda Perkins (1881-1960) with whom he had eleven children.[1]
Civil War service
Hatley first enlisted as a private in Company D, 58th North Carolina Infantry on July 7, 1862 in Watagua County; he received a bounty of $50. No record of his discharge or desertion has been found.[2]
Changing his allegiance, he enlisted as a private in Company E, 13th Tennessee Cavalry on September 24, 1863 in Greeneville, Tennessee for a period of three years and mustered in October 28, 1863 at Strawberry Plains, Tennessee. He was appointed corporal on October 28, 1863.
He is described as 23 years old, 5' 8" tall, dark complexion, blue eyes, black hair, and by occupation a farmer.
Hatley is listed as present for duty until July 12, 1865 when he was left sick in Asylum General Hospital at Knoxville suffering from chronic diarrhea. He was transferred to Brownlow General Hospital and then returned to the regiment August 7, 1865.
Hatley mustered out with the regiment on September 5, 1865 at Knoxville. He had last been paid to August 31, 1864, was owed $2.99 from the government for clothing, had been paid a $25 bounty, and was owed a $75 bounty.
Post-war life
In 1867, Hatley moved his family to Colorado, where they first lived near Pueblo, then near Florence. In 1869, the family moved east to Montgomery County, Kansas where Hatley was engaged in freighting. He took his wife and family back to Carter County, Tennessee in 1870, while he moved to Indigo County, California via Arizona. Selling his business there, the family again to Pueblo County, Colorado in 1871 where they had lived in 1867. In 1877, the family moved to the Palouse area along the Oregon-Idaho border, twelve miles southwest of Pullman, Washington in an area known as "Union Flat".
Hatley applied for an invalid's pension on February 19, 1884 while living in Idaho. He died February 20, 1921 in Pullman, Washington and is buried at Hatley Family Cemetery in Ewartsville, Washington. His wife applied for a widow's pension on March 12, 1921.
Notes
↑

1900 U.S. Census, Eleventh District, Allentown, Carter County, Tennessee.

↑

Family history states that he said he deserted.
External links