Shadrack Jarnagan (February 4, 1844 - December 11, 1927) served as a private in Company M, 13th Tennessee Volunteer Cavalry.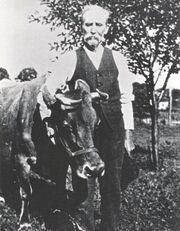 Personal life
Shadrack Jarnagin was born February 4, 1844 in Carter County, Tennessee to Andrew and Sarah Jarnagin. He married Harriet Jane Hyde (abt 1851-aft 1889) with whom he had at least eleven children.
Civil War service
Jarnagin enlisted as a private in Company M on February 2, 1864 in Knoxville, Tennessee for a period of three years and mustered in May 15, 1864 at Knoxville.[1]
He is described as 18 years old, 5' 1" tall, fair complexion, blue eyes, and light hair, by occupation a farmer, and was living in Carter County at the time of his enlistment.
Jarnagin is listed as present for duty throughout his term of service.
He mustered out with regiment on September 5, 1865 at Knoxville. He had last been paid to August 31, 1864, owed $67.81 to the government for his clothing, had received a bounty of $60, and was owed a $240 bounty.
Post-war life
Jarnagin applied for an invalid's pension on July 9, 1890.
He died December 11, 1927 in Knox County, Tennessee and is buried at Knoxville National Cemetery in Knoxville.
Notes
↑

His surname is spelled "Jonican" throughout the regimental and company records, but nearly all U.S. Census records and the surname of his living descendants is spelled "Jarnagan". His surname is spelled "Jarnigan" on his death certificate.
External links