Thomas Jefferson Barry (November 22, 1835 - September 8, 1909) served as a captain in Company E, 13th Tennessee Volunteer Cavalry.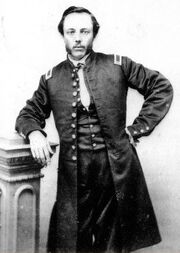 Personal life
Thomas Barry was born November 22, 1835 in Johnson County, Tennessee to Thomas Carter and Lucinda (Donnelly) Barry. Barry was married three times: Martha A. Northington (1835-1872), Rebecca Virginia Grace (1850-1887), and Mary Caroline Osborn. He fathered 10 children.[1]
Civil War service
Barry enlisted at age 28 as a 1st lieutenant in Company E on September 24, 1863 in Greeneville, Tennessee for a period of three years. He mustered in October 28, 1863 at Strawberry Plains.
Barry was commissioned captain of Company E to date from October 1, 1864 upon the resignation of Captain Jacob H. Norris; he mustered at this rank on October 13, 1864 (in absentia) at Bulls Gap, Tennessee. Barry served as acting regimental quartermaster from April 9, 1864 through August 1864.
He became sick and was left in Knoxville on October 26, 1864 until December 1864. Barry was granted thirty days leave due to illness from February 22, 1865 but did not return to the regiment until April 1865. He was sick again in May and June 1865.
Despite his many illnesses, Barry commanded the company on Stoneman's 1864 raid and the Second Battle of Saltville. The regimental history states that Barry "was a valuable officer and highly respected by the men and officers of the Regiment."[2]
Barry mustered out with the regiment on September 5, 1865 at Knoxville. He had last been paid to November 30, 1864.
Later life
He applied for an invalid's pension September 17, 1869. His wife, Mary, applied for a widow's pension on September 18, 1909.
According to Scott & Angel: "Captain Barry has been honored by appointment and election with a number of offices, among which were Sheriff of his county, Register of Deeds, County Superintendent of Public Instruction, Justice of the Peace, Chairman of the County Court and County Surveyor. He has been engaged in school teaching, milling, and various enterprises since the war, and has raised a family of ten children, the oldest 35, and the youngest 8 years old."[3]
Barry died September 8, 1909 in Johnson County, Tennessee and is buried in Mountain View Cemetery in Mountain City, Tennessee.
Notes
↑

His second-youngest daughter, Mattie Virginia (Barry) Greever (b. 1892), died in 1980.

↑

Scott & Angel, p. 295.

↑

Scott & Angel, p. 295.
External links