Thomas L. Runion (September 1846 - June 12, 1935) served as a private in Company L, 13th Tennessee Volunteer Cavalry.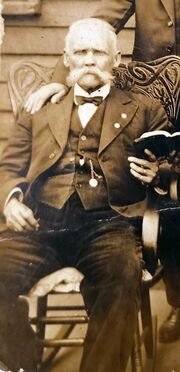 Personal life
Thomas Runion was born in September 1846 in North Carolina.[1] He first married Nancy Jane Hornsby (1850-bef 1920) with whom he had at least eleven children.[2] He married second Elizabeth Brewster (1872-1946); they had no children.
Civil War service
Runion enlisted as a private in Company L on March 4, 1864 in Knoxville, Tennessee for a period of three years and mustered in April 11, 1864 at Knoxville.
He is described as 18 years old, 5' 5" tall, fair complexion, blue eyes, light hair, and by occupation a farmer.
Runion is listed as present for duty throughout his term of service until captured at Bull's Gap, Tennessee on September 22, 1864. He was first held at Lynchburg, Virginia and then transferred to Richmond, Virginia on October 16, 1864. He was paroled February 5, 1865 at Cox's Wharf, Virginia and transferred February 7, 1865 to C. G. Barracks in Annapolis, Maryland. From there he was sent on February 16, 1865 to Camp Chase, Ohio where he arrived on February 20, 1865. When he returned to the regiment is not recorded, although one record indicates that Runion "returned from desertion" May 10, 1865.[3]
Runion mustered out with regiment on September 5, 1865 at Knoxville. He had last been paid to June 30, 1864, was owed $1.23 from the government for his clothing, had received a bounty of $25, and was owed a $275 bounty.
Post-war life
Runion applied for an invalid's pension on July 25, 1890.
He died June 12, 1935 in Clay County, Kentucky and is buried at Brown Mission Cemetery in Laurel Creek, Kentucky.
Notes
↑

His state of birth is variously given as Georgia, North Carolina, and Kentucky in the U.S. Census records, with North Carolina being the most commonly cited stated.

↑

1900 U.S. Census, Kenton County, Kentucky.

↑

Runion perhaps took his time returning to the regiment and was listed as a deserter. No further information about this incident has been found, so it is a dubious notation.
External links