Jurassic World: Dominion Dominates Fandom Wikis - The Loop
Play Sound
Thomas L. "Tommy" Whitehead (June 1, 1844 - April 16, 1942) served as a private in Company C, 13th Tennessee Volunteer Cavalry. He was last surviving member of the regiment at the time of his death and the last surviving Civil War veteran of Carter County, Tennessee.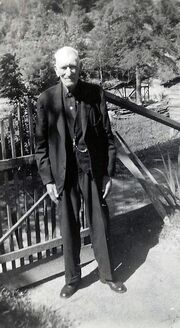 Personal life
Thomas Whitehead was born June 1, 1844 in Carter County, Tennessee to Larkin and Sally Elizabeth "Betsy" (Hill) Whitehead. He married Hannah Whitehead (1841-1907) with whom he had at least eight children.
Civil War service
Whitehead enlisted as a private in Company C on September 24, 1863 in Carter County, Tennessee for a period of three years and mustered in November 2, 1863 at Knoxville, Tennessee.
He deserted November 28, 1863 at London, Kentucky. Whitehead was pardoned and restored to duty on September 12, 1864 by order of Governor Andrew Johnson and was present for duty for the remainder of his term of enlistment.
Whitehead mustered out with regiment on September 5, 1865 at Knoxville. He had never been paid and owed $20.11 to the government for his clothing.
Post-war life
He applied for an invalid's pension on January 2, 1880.
Whitehead died April 16, 1942 in Carter County and is buried at Blevins Cemetery in Whitehead Hill, Tennessee.
The Elizabethton Star (April 18, 1942) stated: "Funeral services were held this afternoon for Thomas L. Whitehead, Carter County's last surviving Civil War veteran, who died Thursday night as he neared his 98th birthday. ... He had lived his entire life within three miles of his Carter County birthplace. Last member of the 13th Tenn. Cavalry, noted Union Army Unit, Whitehead entered the Civil War in Sept., 1863. ... Until the past year the veteran was remarkably well preserved. His hearing was excellent and he could read without glasses. ... Always active in civic affairs, Mr. Whitehead took keen interest in politics, voting the Republican ticket. Almost until the very last he could converse on all governmental matters and civic affairs."
External links