William Butler (April 5, 1844 - March 29, 1917) served as a private in Company B, 13th Tennessee Volunteer Cavalry.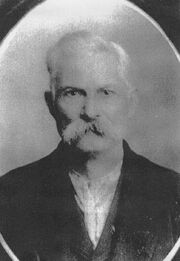 Personal life
William Butler was born April 5, 1844 in Mitchell County, North Carolina to Obediah and Elizabeth (Laws) Butler.[1] He married Phoebe Cordelia Street (1852-1926) with whom he had at least ten children.
Civil War service
Butler enlisted as a private in Company B on September 23, 1863 in Jefferson County, Tennessee for a period of three years and mustered in May 3, 1864 at Gallatin, Tennessee. Records indicate that he had been conscripted into the Confederate Army, but deserted before rendering any service.[2]
He is described as 19 years old, 5' 9" tall, dark complexion, blue eyes, black hair, and by occupation a farmer. He was a resident of Mitchell County, North Carolina at the time of his enlistment.
Butler is listed as present for duty throughout his term of service until he was captured on December 31, 1863 in Carter's Station, Tennessee. According to Prisoner of War Records, he appears to have been left sick at Carter's Station. Butler was sent to Richmond, Virginia where he arrived on February 5, 1864. He was paroled at City Point, Virginia on March 21, 1864 and reported at Camp Parole, Maryland the following day where he was admitted to General Hospital Division No. 1. Butler was discharged from the hospital and returned to Camp Parole on April 18, 1864. From there he was sent to Camp Chase, Ohio where he arrived on April 22, 1864 and was sent back to the regiment on May 18, 1864.
Butler mustered out with the regiment on September 5, 1865 at Knoxville. He had been paid to August 31, 1864, owed $33.14 to the government for clothing, had been paid a bounty of $25, and was owed a $75 bounty.
Post-war life
He applied for an invalid's pension on April 18, 1881.
Butler died March 29, 1917 in Blount County, Tennessee and is buried at Carpenters Campground Cemetery in Maryville, Tennessee. His wife applied for a widow's pension on April 16, 1917.
Notes
↑

At enlistment, he declared that he was born in McDowell County, North Carolina.

↑

If Butler was assigned to a regiment, that information has not been found.
External links