Line 12:
Line 12:
 

Few of Folsom's muster roll records have survived. It appears that he became ill soon after enlistment and was discharged. He likely reenlisted in 1864 and is listed as present for duty until May 1, 1865 when he was left sick at Knoxville; when he returned to the regiment was not recorded.

 

Few of Folsom's muster roll records have survived. It appears that he became ill soon after enlistment and was discharged. He likely reenlisted in 1864 and is listed as present for duty until May 1, 1865 when he was left sick at Knoxville; when he returned to the regiment was not recorded.

 
 
−

Folsom mustered out with the regiment on September 5, 1865 at Knoxville. He had last never been paid, owed $12.49 1/2 to the government for clothing in kind or money advanced, and was owed a $100 bounty.<ref>That he had never been paid--the last payment received by the regiment before mustering out was August 31, 1864--and that he had not received any of his bounty until the regiment mustered out, gives credence to the likelihood that he was discharged in late 1863 and reenlisted in late 1864.</ref>

+

Folsom mustered out with the regiment on September 5, 1865 at Knoxville. He had never been paid, owed $12.49 1/2 to the government for clothing in kind or money advanced, and was owed a $100 bounty.<ref>That he had never been paid--the last payment received by the regiment before mustering out was August 31, 1864--and that he had not received any of his bounty until the regiment mustered out, gives credence to the likelihood that he was discharged in late 1863 and reenlisted in late 1864.</ref>

 
 
 

==Post-war life==

 

==Post-war life==
---
Latest revision as of 17:16, 1 May 2020
William Henry Folsom (December 11, 1847 - August 5, 1915) served as a corporal in Company G, 13th Tennessee Volunteer Cavalry.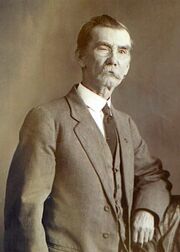 Personal life
William Folsom was born December 11, 1847 in Elizabethton, Tennessee to William James and Anna J. (Bishop) Folsom. He married Loyette Hilton (1850-1922) with whom he had nine children.[1]
Civil War service
Folsom enlisted as a private in Company G on September 24, 1863 in Carter County, Tennessee for a period of three years and mustered in October 28, 1863 at Strawberry Plains, Tennessee.[2] He was promoted to corporal on October 28, 1864.
He is described as 18 years old, 5' 4" tall, dark complexion, black eyes, light hair, and by occupation a farmer.
Few of Folsom's muster roll records have survived. It appears that he became ill soon after enlistment and was discharged. He likely reenlisted in 1864 and is listed as present for duty until May 1, 1865 when he was left sick at Knoxville; when he returned to the regiment was not recorded.
Folsom mustered out with the regiment on September 5, 1865 at Knoxville. He had never been paid, owed $12.49 1/2 to the government for clothing in kind or money advanced, and was owed a $100 bounty.[3]
Post-war life
Folsom moved to Emporia, Kansas in May 1877 and joined Preston B. Plumb Post #55, Grand Army of the Republic on May 22, 1886. He applied for an invalid's pension on June 11, 1876. He died August 5, 1915 in Emporia and is buried at Maplewood Memorial Lawn Cemetery in Emporia. His wife applied for a widow's pension on August 15, 1913.
According to his obituary, Folsom was "honored and respected by hundreds of friends." It added that he "was a good man and a good citizen."[4]
Notes
External links