William G. Aldridge (abt 1831 - March 24, 1864) served as a private in Company C, 13th Tennessee Volunteer Cavalry.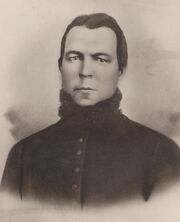 Personal life
William Aldridge was born to James "Jimmy" and Elizabeth "Betsy" (Calloway) Aldridge. He married Mary "Polly" Eggers (1838 - 1914) on January 19, 1855. According to descendants, his father had another family in Virginia and many in the family changed their surname to Calloway when the other family was discovered, including William's only child, Abraham Alexander Calloway (1855 - 1927). Mary married twice after William's death.
Civil War service
Aldridge enlisted September 24, 1863 in Carter County, Tennessee for a period of three years. He mustered in October 28, 1863 at Strawberry Plains, Tennessee.
He died March 24, 1865 due to smallpox at Pest Hospital No. 11 in Nashville, Tennessee and is buried in Nashville National Cemetery, plot P-12386.