William M. Seay (April 15, 1842 - October 1, 1903) served as a private in Company K, 13th Tennessee Volunteer Cavalry.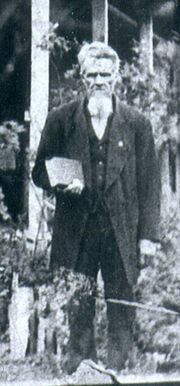 Personal life
William Seay was born April 15, 1842 in Spartanburg County, South Carolina to Reuben and Emeline (Lewis) Seay.[1] He married Hannah Matilda Ellison (1848-1902) with whom he had at least eleven children.
Civil War service
Seay enlisted as a private in Company K on October 1, 1863 in Crab Orchard, Kentucky for a period of three years and mustered in January 26, 1864 at Nashville, Tennessee.
At enlistment he is described as 21 years old, 5' 7" tall, dark complexion, grey eyes, black hair, and by occupation a farmer.
He deserted November 6, 1863 at Knoxville, Tennessee. He apparently returned to the regiment by August 1864 as he is listed as present for duty.[2]. Seay deserted again March 24, 1865 at Bull's Gap, Tennessee and it is recorded that he "stole his guns (revolv[er], rifle), saber, and equipment."
When the regiment mustered out on September 5, 1865 at Knoxville it is noted that he had never been paid and owed $160.92 to the government for his clothing. The roll further states: "Stole one pistol, gun, sabre, & equipments." No discharge was furnished.
Post-war life
In a U.S. War Department Adjutant General's report dated April 9, 1886 he was not granted an honorable discharge. He applied for an invalid's pension on September 25, 1896. On May 26, 1898, the Record and Pension Office of the War Department noted: "It has been determined by this dept. purporting to dishonorably discharge this man Apl. 18, 1872, to date Mch. 24, 1865, was taken under a misapprehension of the powers of the military authorities in such cases, and is void and without effect, and that his final record is that of a deserter. The notation of Apl. 18, 1872, is canceled."
Seay died October 1, 1903 in Mosheim, Tennessee and is buried at Hartmans Chapel United Methodist Church Cemetery in Mosheim.
Notes
↑

His headstone gives his year of birth as 1838, but the 1850 U.S. Census, 1900 U.S. Census, and his enlistment papers give his year of birth as 1842.

↑

The exact date of his return is not stated in the records.
External links