William Story (October 14, 1820 - September 10, 1865) served as a private in Company E, 13th Tennessee Volunteer Cavalry.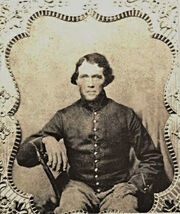 Personal life
William Story was born October 14, 1820 in Wilkes County, North Carolina to Joshua and Dicey (Greene) Storie.[1] He married Elizabeth Hampton (1828-1913) with whom he had ten children.[2]
Civil War service
Story enlisted as a private in Company E on November 2, 1863 in Greeneville, Tennessee for a period of three years and mustered in November 8, 1863 at Strawberry Plains, Tennessee.
He is described as 43 years old, 5' 8" tall, fair complexion, blue eyes, light hair, and by occupation a farmer.
Story is listed as present for duty until January/February 1864 when he was left sick in a general hospital at Nashville, Tennessee. The date of his return was not recorded, but he is listed as present for duty in March/April 1864.
Story is next recorded as absent without leave beginning July 30, 1864; when he returned to the regiment was not recorded.
He was again left sick at Asylum General Hospital at Knoxville, Tennessee on March 9, 1865 due to typhoid fever. He was discharged June 24, 1865 at Knoxville on instructions from the War Department dated July 15, 1865. He had last been paid to August 31, 1864, was owed $14.28 from the government for clothing, and had been paid a $25 bounty.
At the time of his discharge, Story was still suffering with typhoid fever, which led to his death on September 10, 1865 in Watauga County, North Carolina. The location of his grave has not been found. His wife filed for a widow's pension on May 11, 1869.
Notes